I simply never get sick of this story. This season so far I have seen the version starring George C. Scott as Ebenezer Scrooge (and Edward Woodward as the Ghost of Christmas resent!), and now am watching Patrick Stewart as Scrooge and Richard E. Grant as Bob Cratchit.
But my all time favorite version? Mr. Magoo's Christmas Carol! The animated musical version. It's simply wonderful.
It just occurred to me: with all the wonderful actors who have played this role over the years, is it similar to King Lear for actors of a certain age? You haven't really had a proper acting career until you've played the Scrooge?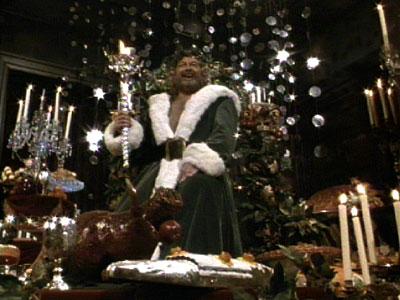 I also appreciate the pagan sensibility that the Ghost of Christmas Present has; he's a merry, Father Christmas type of figure, holly in his beard, furs twinkling with snow, and lives (literally) in the moment. Woodward is especially wonderful in this part, and they make him appear about eight feet tall!